Philips
Philips Avance XXL Large Airfryer HD9650-99
Product Code:
000000000010120282
Key Features:
Twin turbostar technology
Digital display with 5 preset programs
QuickClean basket with non stick mesh
Keep warm mode
XXL family size
Dishwasher safe parts
Recipe booklet
2 year warranty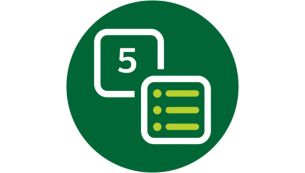 Digital display with 5 preset cooking programs
The digital interface is easy to use with preset cooking programs for one-touch cooking of frozen fries, meat, fish and chicken drumsticks. A QuickControl dial sets both temperature and cooking time. The Keep Warm function gives you the flexibility to serve when you're ready.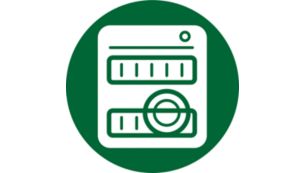 Dishwasher safe for all removable parts
To save time and ensure hassle-free cleanup, all removable parts are safe to clean in your dishwasher.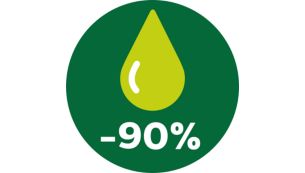 Fry with little or no added oil
The Airfryer uses hot air to cook your favorite foods with little or no added oil, so you can fry with up to 90% less fat*. Enjoy great-tasting, crispy results like deep fried, with the least amount of fat.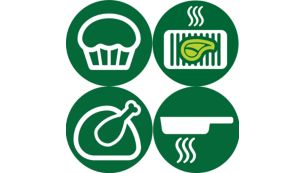 Fry, bake, grill and roast your favorite foods at home
The Airfryer XXL handles much more than just frying. Grill, bake and even roast your favorite foods for quick, delicious family meals. Our Philips Airfryer app is full of tips, tutorials and easy-to-follow recipes.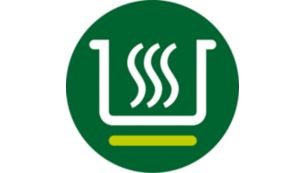 Keep Warm mode for flexible serving time
The Keep Warm function lets you serve the food when you are ready for it. You can keep your dish warm up to 30 minutes.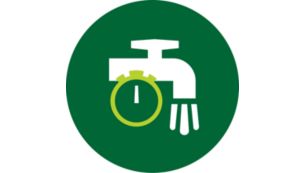 QuickClean basket with non-stick mesh cleans up in 90 secs
Airfryer's QuickClean basket has a removable non-stick mesh for easy cleanup. Both the basket and removable drawer with non-stick coating are dishwasher safe – and frying with air saves you and your home from the odor of traditional deep-frying.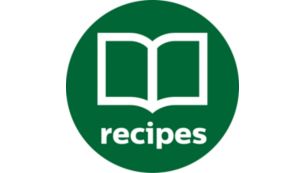 Recipe booklet with more than 30 delicious dishes
From quick healthy snacks to full family meals, our free recipe book has more than 30 delicious ideas and easy-to-follow instructions from professional chefs. Our Philips Airfryer app is full of more tips, tutorials and easy-to-follow recipes.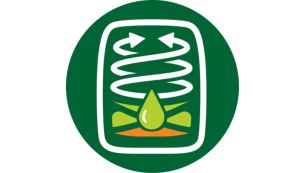 Twin TurboStar technology removes fat from foods
By combining a powerful heater and motor with our new Twin TurboStar technology, the hot air in the Airfryer swirls like a powerful tornado – throughout the entire cooking basket. Designed to extract more fat from your food and capture it all in the fat reducer for easy disposal. Philips Airfryer with Twin TurboStar technology also saves you and your home from the smell of fried oil compared to a regular fryer.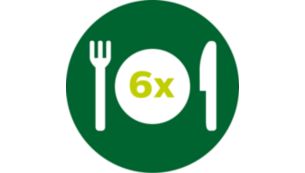 XXL family size fits a whole chicken or 1.4 kg of fries
The Airfryer is designed with your family in mind. Make delicious meals for the whole family every day. XXL capacity easily handles a whole chicken or up to 1.4 kg of fries for a whole world of possibilities.
As crispy as deep fried with 90% less fat
Proven performance. Make fries that are just as crispy as a traditional deep fryer with up to 90% less fat in them. Roast a whole chicken for crispy skin and tender meat while removing fat.
Our most powerful Airfryer for faster cooking results
This is our most powerful air fryer for the fastest cooking times, with instant heat-up so you're always ready to get started.
More Information
General Specifications
Removable Thermostat
No
Power Output
2225 W
Pan Shape
Round
Pan Diameter
0 cm
Lid Type
NONE
Basic Colour
Black
Cooking Surface
Non-stick
Dishwasher Safe
Yes
Electronic Controls
No
Style
Finish
Plastic
Boxed Dimensions
Height
40 cm
Length / Depth
40 cm
Gross Weight
10.39 kg
Net Weight
8.7 kg
Width
39 cm
Everyshop makes use of TestFreaks, a global review partner, to provide product reviews from more than 12,000 different sources worldwide.
Are you ready to receive your new purchase?
We deliver anywhere in South Africa from Monday to Friday (excluding public holidays). If you live in any outlying town we might need some additional time but we promise it is worth the wait!
What will the delivery cost you?
We will always try to bring your order to your doorstep in the most affordable way. Here is a simple guide to show you the options available:
| | |
| --- | --- |
| Type of products | Delivery Fee |
| Orders over R450 (excludes TV's, Large Appliances, Furniture, Beds, Large Items, Outdoor & Sports Equipment) | Free Delivery |
| Orders under R450 | R50.00 |
| TV's | R100.00 |
| Large Appliances, Beds, Outdoor & Sports Equipment | R200.00 |
| Large Items, DIY & Furniture | R300.00 |
When will delivery take place?
Our delivery team is ready to pack and deliver your order as soon as payment confirmation and required supporting documents such as TV License validation are received.
What if I miss my delivery?
We will make sure to give you a call and reschedule as soon as possible.
What if my items are damaged, faulty or incorrectly delivered?
Please notify us within 24 hours of receipt of delivery on 0800 111 081 or [email protected]. We will do our best to have the damaged product collected and a new product delivered to you. For more details view our returns and refunds policy.
What if I receive the incorrect items or quantity of products?
Mistakes do happen, should you experience this please notify us immediately so that we can get our team to assist you. You can notify us on 0800 111 081 or [email protected] and we will arrange to collect the incorrect items and replace them as soon as possible.
What about Returns & Refunds?
If you are not absolutely in love with your new purchase you may return or exchange your products subject to producing the original receipt and ensuring the product is in its original packaging and condition.
You are welcome to view our full returns and refund policy in our terms and conditions to guide you with the process and to learn more about products that can not be returned.
Should you wish to return items, you can use the online return functionality within 24 hours of delivery under the "My Account" Tab on the right-hand side of the navigation bar.
Should you need more information kindly contact us on 0800 111 081 or [email protected].